Green Plan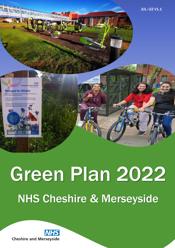 The NHS produces approximately 5.4% of the UK's greenhouse gas emissions, 40% of UK public sector emissions, and on a global level, healthcare generates so much CO2e that if it were a country, it would be the world's fifth biggest polluter.
Our approach recognises that climate change is the most significant health and human rights issue facing us today, and the transition to net zero is an opportunity to tackle inequalities and the wider determinants of health. It is an approach that is fundamentally important to the future survival of the NHS, the population, and the planet.
The Green Plan outlines our commitment to deliver sustainable and high-quality services for the people of Cheshire and Merseyside and highlights the ways in which we are working with our partners to positively impact the wider determinants of health to address health inequalities and to embed social value into everything that we do.
Health and care partners - Green Plans