Share Your Views

The development of Cheshire and Merseyside Health and Care Partnership provides a once-in-a-lifetime opportunity to combine our efforts and collective resources to make real improvements to the lives our people and communities.
Consisting of representatives from across our communities, the NHS, local authorities, voluntary sector, housing, police, education and fire and rescue, and local businesses - our Partnership Board provides a multi-agency approach to assess the health, public health and social care needs of people across Cheshire and Merseyside – and develop a combined strategy to address them.
Benefits
Joining up health and care is nothing new – we have been working towards this for years and will continue to build on this excellent work by supporting innovation and learning from examples of best practice across Cheshire and Merseyside and beyond.
Tackling health inequalities is our shared key aim. As a 'Marmot Community', we are truly committed to improving the health and wellbeing of our population and in doing so focussing on reducing inequalities.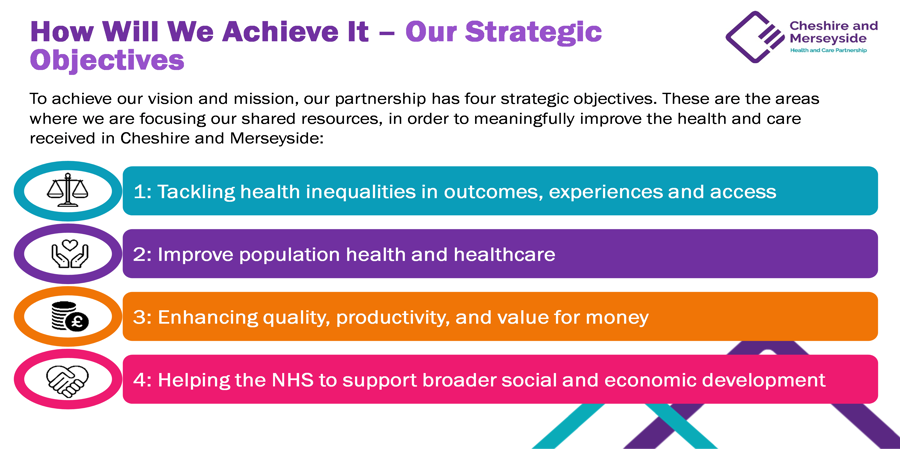 Developing our Strategy
We have developed the following documents that set out our plans and priorities:
You can also see the national NHS priorities we will focus on at:
Share your views
Please review our interim strategy document and help us to shape it further by answering some simple survey questions about our priorities, and also by sharing your experience of living and accessing services in Cheshire and Merseyside. 
Follow this link to answer four simple questions and share your views
Next steps
The survey will remain open for a number of weeks.
We will review and use your feedback to finalise our strategy and develop a more detailed delivery plan (we call it a Joint Forward Plan) by the end of June 2023.